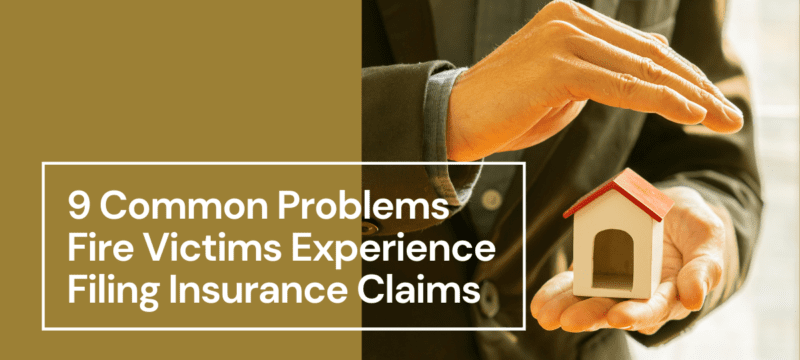 The Marshall Fire was just declared a $1 billion disaster by NOAA, making it the 57 th Colorado-
based disaster with that distinction since 1980. The aftermath will continue to impact Colorado
families for decades to come. Some Marshall Fire victims are likely to discover the difficulties of
recovering compensation under insurance policies.
Knowing Where to Begin
Finding a place to live immediately after a destructive fire is, unfortunately, just the beginning
of the long road to recovery. Many fire victims find themselves so overwhelmed that they are
not sure what to do first. Notifying the insurance company as soon as possible should be at the
top of the list.
Finding and Paying for Alternative Housing
Especially in light of the current tight housing market, it will be difficult for Marshall Fire
property damage victims to secure appropriate housing for their families. Rentals are limited
and can be restrictive with regard to the number of tenants or pets allowed. Unique challenges
face those families where the mortgage lender still expects payment while the fire damage
claim is under review at the insurance company.
Understanding the Insurance Claim Process
It's enough to deal with the basics following serious fire damage, but most victims are
unprepared for the insurance claim process. Furthermore, with the widespread damage from
far-ranging fires, most insurance companies will be overloaded with calls and claims. This can
extend the claim process further, even for those victims who filed quickly. This is one reason
why having a fire insurance claim lawyer to guide the process can make a big difference.
Documenting and Valuing the Loss
One of the most common issues in most insurance claims relates to valuation of the damage.
The insurance company's method for valuing the loss and your perception of what you lost are
not necessarily the same. Victims should be prepared to take as many photos as possible if it's
safe to be at the scene. Many victims might not be able to easily recall everything inside the
home off the top of their heads.
Deciding Whether to Rebuild
Purchasing a new home might be easier than rebuilding, but most families don't have a home
rebuild on their radar when they are suddenly forced into this important decision. Weighing all
of the pros and cons, including the potential timeline for rebuild, is vital.
Finding Contractors
Finding reliable contractors who can complete work in a timely fashion is hard in the best of
times, but when you're working with a limited budget while things are tied up in the insurance
claim, it's even harder. The tight housing market in Colorado means that many contractors are
in demand or overworked, pushing back timelines for engagements, too.
Understanding the Fire Insurance Policy and Communications
Getting a copy of the property insurance policy is a first step for those who intend to file a claim
since a close read of this document will be necessary to determine any policy limits or possible
issues. These policies are often difficult to read, and some claimants have experienced delays or
denials due to fine print in specific clauses. Having a professional walk through your policy will
help you spot potential pitfalls early and put you in the best place to submit proper
documentation.
Claimants should be clear when they open a claim what the insurance company is required to
pay for and what the insurance company should be doing during the claims process. Since most
people have never filed a fire insurance claim, however, they won't know what to look for or
when the insurance carrier is taking things too slowly.
Every letter, call, or claim update from the insurance company is important following a
devastating fire. Interpreting what those communications say, however, is not easy.
Deciding Whether to Accept a Claim Payment
If a claim payment is offered, it's usually with very little meaningful context for the homeowner.
The lump sum might seem tempting in light of initial financial challenges, but it's a mistake to
accept a settlement offer without having it evaluated by an experienced fire damage insurance
lawyer in Colorado.
In some cases, the insurance company might delay payments or deny them altogether. Knowing
when to push back and how is important, and often only someone who has a background
working with insurance companies will know how to handle this situation.
Understanding and Protecting Claimant Rights
Fire damage victims often feel at the mercy of the insurance company, but they do have legal
rights. These include:
The insurance company must be honest with claimants and third parties.
The insurance carrier must complete a timely and complete investigation of the loss.
Payment for "additional living expenses" or "loss of use" for reasonable expenses like gas, lodging, and food due to loss of your home (keep receipts, and Colorado law mandates this for 12 months.)
The carrier must keep you informed about the status of your claim.
Consumers have the right to timely payment when a covered loss occurs.
Claimants have the right to hire professional legal help or to file a claim when the insurance company violates these rights.
Get more information about your rights if you think you have a Marshall Fire insurance claim.
Hire a Lawyer to Help with Your Colorado Fire Insurance Claim
To get help with bad faith fire insurance claims, turn to Keating Wagner Polidori Free. Bad faith
and insurance coverage lawyer Zachary Warzel has extensive experience in this field and holds
a leading reputation for protecting the rights of consumers after losses. If you or someone you
know is struggling with an insurance claim after the Marshall Fire, we're here to help. Schedule
a consultation now.