The business litigation trial lawyers of Keating Wagner Polidori Free have recovered hundreds of millions of dollars and secured more than 60 settlements and verdicts over $1 million.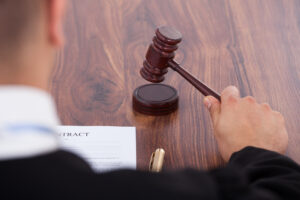 Schedule Your Free Consultation: 303-534-0401
Keating Wagner Polidori Free is a top choice for business litigation in Colorado. Leading trial lawyers Ross Pulkrabek and Aaron Goldhamer have built their reputations on successfully prosecuting claims and counterclaims in high-stakes business disputes.
Our Denver law firm represents individuals, municipalities, large and small businesses, and nonprofit organizations, with amounts at stake ranging from $2,000 to $2 billion. 
No matter what you and your business are up against, we can help.
What Sets Keating Wagner Polidori Free Apart
Award-winning representation,

by lawyers who graduated from some of the nation's top law schools and have been recognized among the Best Lawyers in America, as well as the best lawyers in the state as Colorado Super Lawyers and Rising Stars.

Quick action when everything is on the line,

including extensive experience obtaining preliminary injunctions to freeze assets, as well as other pre-trial remedies.

Flexible fee structures to fit your needs,

including representation on a contingency-fee or part-contingency-fee basis, where our compensation is directly tied to the results we obtain for you. 
Business Divorce
Sometimes the best thing you can do to protect your reputation and your assets is to sever ties with a business partner. Keating Wagner Polidori Free has unmatched experience in the dissolution of businesses and severing business relationships.
Business Torts
We prosecute civil claims related to breach of contract, misrepresentation, misappropriation of trade secrets and fraud. Attorneys Ross Pulkrabek and Aaron Goldhamer have an extensive record of great results with these claims.
Fraudulent Conveyance and Hidden Assets
Keating Wagner Polidori Free's business litigation team knows where to find hidden assets. In fact, attorney Ross Pulkrabek led a successful effort to amend the law on fraudulent transfers. He has written and lectured extensively on the topic and is often hired by other attorneys to help locate and recover assets.
Business Litigation Practice Areas
Corporate fraud

Trade secret theft

Unfair competition

Employee dishonesty and embezzlement

Partnership and shareholder disputes

Interference with business relationships

Legal malpractice

Real estate litigation

Contract disputes

Fraudulent transfers and concealment of assets
Call 303-534-0401 to Schedule Your Free Consultation
Reach out to the lawyers that other lawyers refer cases to. Located in Denver, our firm's plaintiff-focused business litigation consultations are confidential and always free of charge. Call us at 303-534-0401 or send us a message.