On January 24, Keating Wagner Polidori Free hosted more than a dozen students, counselors and administrators from Denver Kids, an area nonprofit focused on supporting students in their goal to graduate from high school and pursue post-secondary opportunities. The firm's attorneys and staff had spent the previous three weeks collecting hundreds of dollars worth of donations for a Re-Up School Supply Drive with Denver Kids, with the hopes of helping the students have adequate supplies throughout the entirety of the school year.
As part of the supply pick up, the firm also conducted some small group discussions and interactive sessions with the students to help them understand and explore the idea of becoming involved in the legal community. The firm will offer an additional structured career panel for interested students with the nonprofit in February.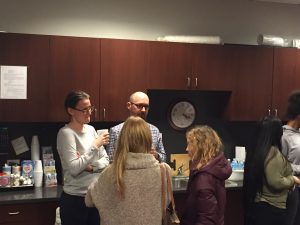 Denver Kids is a nonprofit in Denver that supports students, grades K-12, who face the personal challenges of higher risk environments to successfully complete high school, pursue post-secondary options, and become contributing members of the community. The firm is partnering with the nonprofit throughout 2017 to provide school supplies, career panels, a summer internship and financial assistance to the nonprofit. To learn more about Denver Kids, visit their website: http://denverkidsinc.org/.
Deirdre Ostrowski and Zach Warzel talk to one of the Denver Kids students and a counselor during the event. 
Dan Wartell addresses a group of high school students about how he chose to become an attorney.