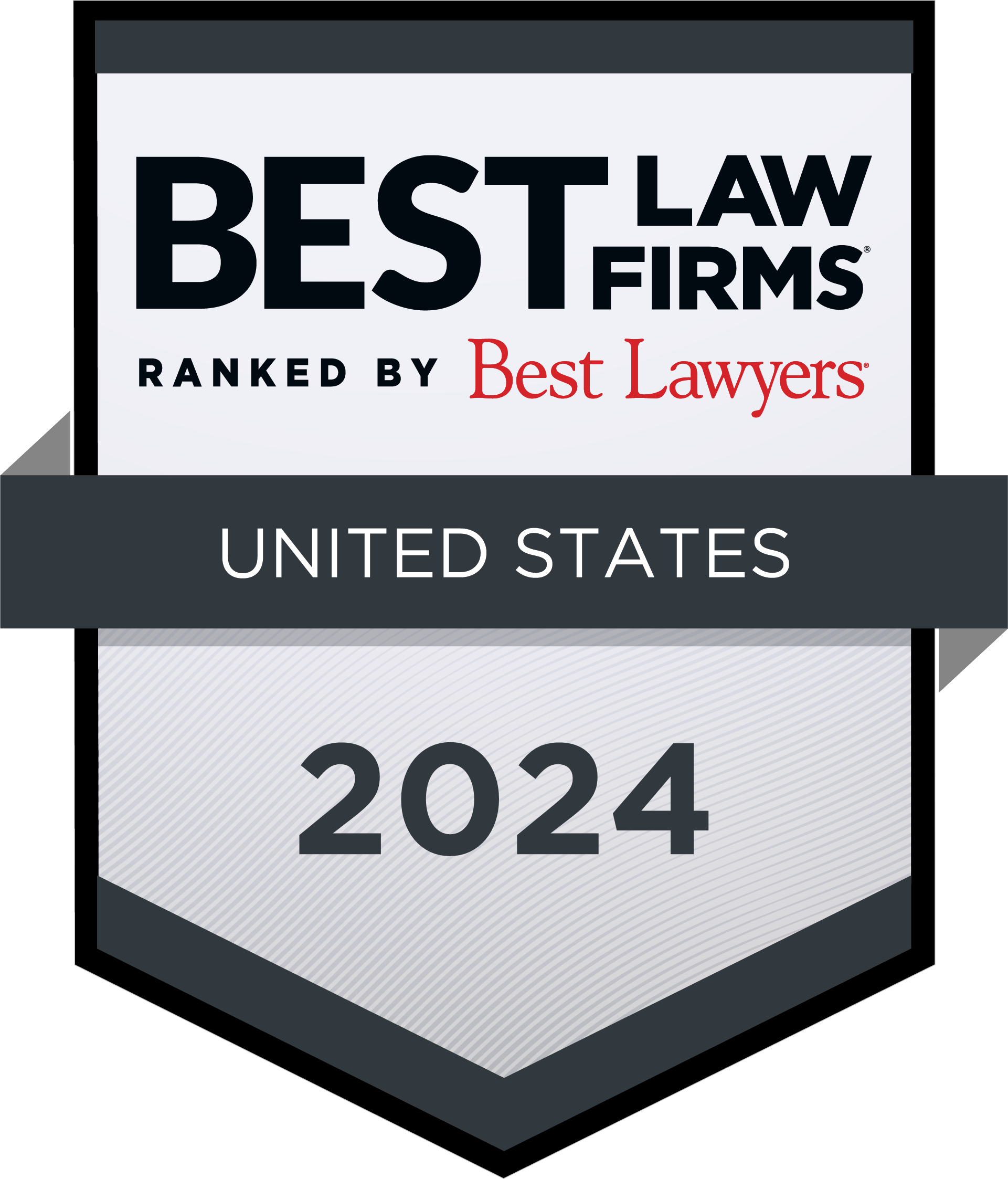 Keating Wagner Polidori Free is proud to announce its recognition in the 2024 edition of U.S. News – Best Lawyers® list of "Best Law Firms," which recognizes the top law firms nationwide. The firm is no stranger to this recognition, having received it multiple times in previous years.
Keating Wagner Polidori Free's 2024 Best Law Firms Recognitions
U.S. News and Best Lawyers, the leading worldwide survey of law firms and attorneys, join annually to rank law firms in the U.S. Together, they currently rank firms in 75 National Practice Areas. Keating Wager Polidori Free received the following 2024 "Best Law Firms" rankings in Colorado:
Metropolitan Tier 1
Colorado
Personal Injury Litigation – Plaintiffs
Product Liability Litigation – Plaintiffs
Insurance Law
Legal Malpractice Law – Plaintiffs
Litigation- Insurance
Professional Malpractice Law – Plaintiffs
This is the highest rating available in a specific geographic region.
Metropolitan Tier 2
Colorado
Commercial Litigation
Workers' Compensation Law- Claimants
Metropolitan Tier 3
Colorado
About the Best Law Firms Recognition
For a law firm to be eligible for a ranking in "Best Law Firms," they must have at least one lawyer listed in The Best Lawyers in America; an exclusive award presented to only the top 5 percent of lawyers practicing in the U.S. All eight of Keating Wagner Polidori Free's current attorneys, Michael Keating, Deirdre Ostrowski, Ross Pulkrabek, Zach Warzel , Melissa Sullivan, Robert Wagner, Laurence Free, and Aaron Goldhamer achieved this high honor for 2024.
Law firms included in the 2024 U.S. News – Best Lawyers "Best Law Firms" list are recognized for professional excellence with consistently superior ratings from both their clients and peers.  A tier designation reflects the high level of respect among other leading lawyers and clients in the same communities and the same practice areas for a law firm's abilities, professionalism, and integrity.  A tiered ranking achievement also reflects an outstanding combination of quality law service and in-depth legal expertise.
For the complete listing of the 2024 Best Law Firms, click here: https://bestlawfirms.usnews.com/
About Best Lawyers®
Best Lawyers is the most senior and respected lawyer-ranking authority across the globe. For over 40 years, Best Lawyers has helped individuals needing legal services to find the lawyers best qualified to serve them in various jurisdictions or specialties. Leading local, regional, and national publications around the world publish Best Lawyers rankings. Attorneys aren't required or allowed to pay a fee to be recognized. As such, recognition by Best Lawyers is a singular honor.
About Keating Wagner Polidori Free
Keating Wagner Polidori Free is an award-winning Colorado law firm focusing its practice on personal injury and providing clients with representation and advice in personal injuries, workplace injuries, business litigation, and insurance disputes. In addition to Best Law Firms and Best Lawyers recognitions, our firm has received countless other awards and accolades throughout the years, such as 5280 Top Lawyers and The National Trial Lawyers Top 100.
Our job is to hold others accountable on your behalf. If you have a legal matter we can help with, please get in touch with us as soon as possible at 303-534-0401 or use our online contact form.