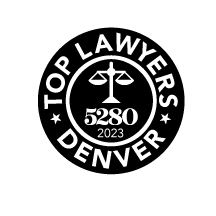 Keating Wagner Polidori Free is proud to announce that four of our award-winning attorneys have been selected as 5280's Top Lawyers for 2023.
About 5280 Magazine's Top Lawyers List
5280 Magazine's annual Denver's Top Lawyers List recognizes attorneys that are the best in the region. For their ninth annual Top Lawyers 2023 list, 5280 Magazine considered thousands of licensed attorneys for this distinction. Still, they recognized just over 500 attorneys in 50 legal specialties with input from the Colorado Bar Association (CBA), local attorneys, and area law firms. Their selection process includes reviewing peer ballots from other licensed peer attorneys, followed by interviews, and independent research, which includes many phone calls and hours of mining the internet for cases and legal work that stood out.
5280 Magazine reaches out to over 17,700 licensed attorneys actively registered with the Colorado Supreme Court's Office of Attorney Regulation Counsel and local bar associations to ensure they receive a robust response to the peer-reviewed ballot. At the time of recognition, all attorneys listed are in good standing with the State of Colorado. It's also important to note that The Top Lawyers list is unaffected by which attorneys advertise with 5280.
Keating Wager 5280 Recognitions
We are honored to share with you the following 5280 Magazine Top Lawyer 2023 recognitions for Keating Wagner Polidori Free attorneys:
Deirdre Ostrowski, Personal Injury: Plaintiff
Deirdre Ostrowski is considered one of the state's top female injury attorneys. She is the managing partner of Keating Wagner Polidori Free. Ms. Ostrowski prides herself on setting a tone of unwavering standards for clients, including transparent communication and putting her clients' needs first.
Larry Free, Workers' Compensation: Claimant
Larry Free has exclusively practiced workers' compensation law in Colorado since 1995, making him the trusted resource for employees who have been injured on the job. Mr. Free fights diligently for maximum workers' comp benefits, which allow his clients to focus on their physical and psychological injury recovery.
Mike Keating, Personal Injury, Plaintiff
Mike Keating has over two decades of experience as a trial lawyer. He is one of the state's top attorneys and is responsible for some of the largest personal injury lawsuit verdicts in our state's history. His goal is to give a voice to catastrophically injured people when products or someone else's negligence hurts them.
Zachary Warzel, Insurance
Zachary Warzel is a widely-recognized, award-winning insurance attorney for policyholders and advocates for survivors of childhood sexual abuse. He has secured tens of millions of dollars in judgments and settlements in Colorado insurance bad faith, sexual abuse, wrongful death, premises liability, trucking, and complex personal injury cases.
Congratulations, Deirdre, Mike, Larry, and Zachary on this prestigious recognition! We look forward to your accomplishments in 2023 and beyond.
Our award-winning attorneys are here for you if you need help with a legal matter. Contact Keating Wagner Polidori Free today to learn more about how we can help.