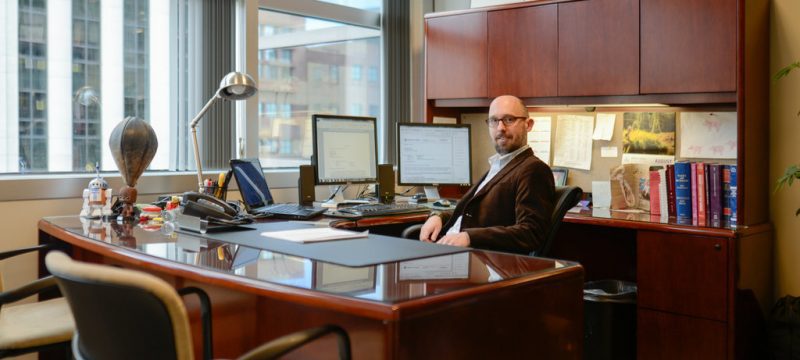 The Colorado Trial Lawyers Association named its 2019 Case of the Year finalists this week including a Colorado Supreme Court case that Zach Warzel handled last year. CTLA will hand out the award for the Case of the Year at its annual awards dinner in May.
Zach was the initial trial attorney inGuaranty Life Insurance v. Estate of Casper, along with David Jones of Decker & Jones. He also assisted with the appeals. On the appeal to the Colorado Supreme Court, Nelson Waneka handled the majority of the briefing as well as the oral argument.
Michael Casper, Zach's client, died nine days after a jury found in his favor in an insurance breach of contract, bad faith, and violation of CRS 10-3-1115 case. The insurance company appealed, arguing that Mr. Casper's verdict should be drastically reduced because of his death under Colorado's "survival act."
The Supreme Court found that the survival act applies per claim and that the "punitive" and "personal injury" damage limitations under the survival act do not apply to claims under Colorado law, CRS 10-3-1115. While common law bad faith is a closer call under the "personal injury" damage limitation found in the survival act, the Court found it did not apply to this case because Mr. Casper had already obtained a verdict ("recovered" under the meaning of the survival statute) by the time he passed away.
As to punitive damages awarded by the jury, the Court found that they are governed by the "penalty" limitation of the survival statute and that the survival statute limits punitive damages only when "the person against whom such punitive damages … are claimed" has died. Because the insurance company still existed, the limitation does not apply. Finally, the Court found that attorney fees and costs under 10-3-1115 are "actual damages," and not penalties, and can be included when calculating an award of punitive damages under the statutory cap on punitive damages. The Court reversed the trial court's nunc pro tunc entry of judgment because the actual damages of attorney fees had not yet been determined at the time of the verdict.
Learn more about CTLA's annual award dinners, including this year's other honorees here.